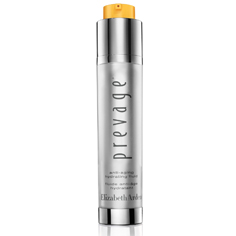 PREVAGE® Anti-aging Hydrating Fluid
This sheer, silky hydrator infuses skin with vital moisture as it protects and corrects the look of skin. Advanced Idebenone technology provides powerful environmental protection against free radical damage and helps correct the appearance of visible signs of damage left behind - fine lines, wrinkles, dark spots and discolorations. Skin feels smooth, refreshed and beautiful - day or night.
Antioxidant Protection
Delivers a powerful antioxidant complex to combat all three levels of free radical assaults. Helping to pre-empt environmentally induced damage for skin that looks smoother, refreshed and younger.
Restores Skin's Natural Defenses
Helps support skin's healthy barrier function and restores it's capacity for moisture retention.
Sheer Hydration
Lightweight moisturizers keep skin soft, smooth and hydrated.
Test Usage
If you have sensitive skin, eczema or a history of allergies, you may want to consult with your physician before your first use of PREVAGE® products. Before beginning to use PREVAGE® on a regular basis, apply a small amount of product (less than one pump) daily for at least three (3) days to a small area of skin on the forearm near the inner side of the elbow. If any itching, burning, redness, or swelling occurs during this trial period, wash the product off and discontinue use immediately. If no reactions occur, follow the Regular Usage instructions.
PREVAGE® Anti-aging Skincare
Experience the power of PREVAGE® that helps protect and correct skin's appearance from environmental stressors, a leading cause of dry skin and visible aging signs, for younger-looking, more beautiful skin. Armed with Idebenone, the most powerful antioxidant available today*, PREVAGE® offers a daily high performance regimen designed to help neutralize environmental assaults that can cause skin damage like fine likes, wrinkles, age spots and discolorations. It's scientifically tested, clinically proven and EPF® Certified.
*For face products, environmental protection is against oxidative stress due to sun, smoke and pollution, with Idebenone compared to alpha lipoic acid, kinetin, vitamin C, vitamin E and coenzyme Q10.