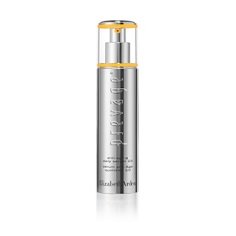 PREVAGE® Anti-aging Daily Serum
PREVAGE® gets a facelift.
New look. New technology. Dramatic results.
PREVAGE® transforms anti-aging skincare with advanced Idebenone technology, the most powerful antioxidant available today* with an EPF® rating of 95. Re-engineered to help create a reserve within the skin to release protective and corrective benefits when and where needed most. Measurably diminishes the appearance of lines, wrinkles, minor scars, redness, age spots and sun damage so skin looks younger than ever.
PREVAGE® Anti-aging Daily Serum addresses major skincare concerns with proven results:
Fine lines, wrinkles, age spots and discolorations appear reduced.
Redness and minor scars and existing sun damage look minimized.
Skin looks firmer and more radiant.
*When compared to alpha lipoic acid, kinetin, vitamin C, vitamin E and coenzyme Q10. EPF® and Environmental Protection Factor™ are certification marks and trademarks owned by Pharma Cosmetix Research, L.L.C.
PREVAGE® Anti-aging Daily Serum provides significant benefits to protect and correct the look of skin, helping shield skin from environmental assaults, intercept future aging signs and dramatically improve the look of sun damaged skin.
In our latest clinical test, PREVAGE® Anti-aging Daily Serum achieved the following results:*
80% Improvement in radiance and brightness
70% Improvement in skin tone
69% Improvement in the look of photodamaged skin
61% Improvement in the appearance of firmness and elasticity
51% Reduction in the look of discolorations
29% Reduction in the look of freckles
In addition, after just 8 weeks of product use, women in our consumer test observed the following extraordinary results:**
74% saw a reduction in the appearance of fine lines and wrinkles.
*12 Week Clinical test conducted on over 32 women aged 26-64. Thirty-four panelists completed the tone, skin elasticity/firmness, radiance, brightening and overall appearance study. Thirty-nine panelists completed the discoloration subsection; and thirty-three panelists completed the freckles subsection.

**Consumer test conducted on 102 women aged 25-65.
Regular usage directions: Push pump down twice to dispense a pea size amount onto your fingers. Thoroughly massage onto cleansed face, neck and décolleté 1-2 times daily. Avoid contact with eyes. Discontinue use and consult a physician if irritation or rash appears. For best results, follow with PREVAGE® Anti-aging Moisture Lotion SPF 30 PA++ in the morning and PREVAGE® Anti-aging Overnight Cream before bed.
Test Usage
Skin reactions to PREVAGE® products though rare, may be more likely to occur within the first several days of use or to persons that have sensitive skin, eczema or a history of allergies. If you have sensitive skin, eczema or a history of allergies, you may want to consult with your physician before your first use of PREVAGE® products. Before beginning to use PREVAGE® products on a regular basis, apply a small amount of product daily for at least three (3) days to a small area of skin on the forearm near the inner side of the elbow. If any itching, burning, redness, or swelling occurs during this trial period, wash the product off and discontinue use immediately. If no reactions occur, follow the Regular Usage instructions.
PREVAGE® anti-aging treatments.
Proof...not promises.™
From Elizabeth Arden and a leading dermatological research company, PREVAGE® contains Idebenone (hydroxydecy ubiquinone), currently the most powerful antioxidant* for addressing the visible signs of aging including fine lines, wrinkles, roughness and discolouration. PREVAGE® anti-aging treatments promote a smoother, firmer, less lined appearance.
*When compared to alpha lipoic acid, kinetin, vitamin C, vitamin E, and coenzyme Q10.