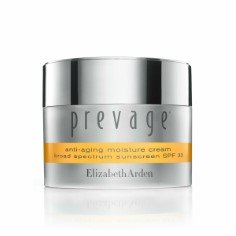 PREVAGE® Anti-aging Moisture Cream SPF 30 PA++
This multi-defense, intensely moisturizing day cream helps nourish skin's natural moisture defenses and reverse dryness. It diminishes the appearance of aging signs and existing sun damage - fine lines, wrinkles and discolorations. Advanced Idebenone technology provides powerful environmental protection while broad spectrum UVA/UVB sunscreens help shield from the sun. Skin feels ultra soft and smooth, looks healthy, radiant - younger than ever.
Like its lightweight lotion counterpart, PREVAGE® Anti-aging Moisture Lotion SPF 30 PA++, new PREVAGE® Anti-aging Moisture Cream SPF 30 PA++ works all day to protect and hydrate dry skin.
PREVAGE® Anti-aging Moisture Cream is proven to help:
Nourish dry skin with intensive moisture
Smooth, soften and retexturize skin
Protect skin from sun damage: lines, wrinkles and discolorations
Restore skin's natural resilience for a firmer look
Give skin a brighter, even toned, more radiant appearance
The new PREVAGE® Anti-aging Moisture Cream formula delivers a blend of high performance ingredients:
Antioxidant Protection
Advanced Idebenone Technology - the most powerful antioxidant*
Thiotaine- works synergistically with Idebenone
UVA/UVB Protection
A blend of powerful sunscreen filters provide full spectrum sun protection with a factor of 30
Restorative
Hibiscus Seed Extract helps maintain skin's own natural collagen to give skin a firmer, more resilient look
Intense Moisturization
Advanced Moisture Complex, Shea butter, Cocoa butter & Glycerin
After 4 Weeks:*
92% Skin feels softer and smoother.
87% Skin feels moisturized all day.
86% Enriches skin with deep moisture.
75% Skin looks healthier.
* US home use consumer test on 99 women ages 30-60 after 4 weeks
Apply each morning after PREVAGE® Anti-aging Daily Serum for optimized antioxidant and daily protection.
PREVAGE® anti-aging treatments.
Proof...not promises.™
From Elizabeth Arden and a leading dermatological research company, PREVAGE® contains Idebenone (hydroxydecy ubiquinone), currently the most powerful antioxidant* for addressing the visible signs of ageing including fine lines, wrinkles, roughness and discolouration. PREVAGE® anti-ageing treatments promote a smoother, firmer, less lined appearance.
*When compared to alpha lipoic acid, kinetin, vitamin C, vitamin E, and coenzyme Q10.