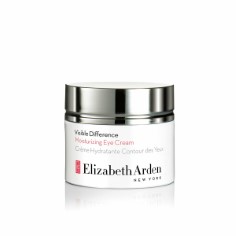 Visible Difference Moisturizing Eye Cream
The delicate skin around your eyes craves moisture and is an important area to treat daily. This multi-benefit eye cream helps prevent moisture loss and maintain your skin's optimal moisture balance as it targets dark circles under eyes.
Start caring for the skin around your eyes today and you'll reap the rewards later. The skin here is delicate and needs just the right amount of moisture. The unique blend of tried and proven ingredients in our eye cream work deep within the skin's surface layers and complements your skin's own moisturising process. The eye area is left looking fresh and smooth. This treatment is suitable for all skin types and is recommended for daily use.
BEST FOR: ALL SKIN TYPES
To use: Pat gently around your eye area. Use the Moisturizing Eye Cream to boost the benefits of your 4-step Visible Difference essential regime:
1)Cleanse 2)Tone 3)Treat 4)Moisturise
Your daily skincare regime can make a Visible Difference.
Skin types are as individual as personalities and can change with the seasons, diet, and stress. 100 years of Elizabeth Arden spa experience has taught us that nothing is more beautiful than beautiful skin. Whether your skin is dry, oily, or at times both, the new Visible Difference line of skincare essentials gives your skin the hydration it needs to appear healthy and radiant.
Specifically designed and customised for each unique skin type - combination, oily and dry - Visible Difference is a four part daily treatment process that cleanses, tones, treats and moisturises. See the difference a skin-specific, spa-inspired daily regime can make in your skin today and everyday.