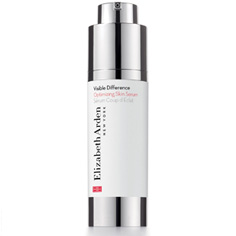 Visible Difference Optimizing Skin Serum
This serum uses our retinyl complex to gently retexturise skin while preparing skin to receive the benefits of your unique skin type regime. Reveals healthy, glowing skin tone.
In a perfect world, your skin would repair and replace damaged cells so quickly that you'd have a continuous, healthy glow. In the real world, our skin needs a little help. We've optimised 100 years of spa science to create a serum that gives your skin a healthy advantage. This advanced treatment formula with our exclusive retinyl complex renews skin's clarity and texture as it evens skin tone. Suitable for all skin types, even sensitive skin. Dermatologist and clinically tested. Non-comedogenic. Sensitive skin tested.
BEST FOR: ALL SKIN TYPES
To use: Smooth onto your cleansed face and throat, before moisturiser, morning or night. As always, you'll get best results if this is part of a consistent, daily Visible Difference essential regime:
1)Cleanse 2)Tone 3)Treat 4)Moisturise
Your daily skincare regime can make a Visible Difference.
Skin types are as individual as personalities and can change with the seasons, diet, and stress. 100 years of Elizabeth Arden spa experience has taught us that nothing is more beautiful than beautiful skin. Whether your skin is dry, oily, or at times both, the new Visible Difference line of skincare essentials gives your skin the hydration it needs to appear healthy and radiant.
Specifically designed and customised for each unique skin type - combination, oily and dry - Visible Difference is a four part daily treatment process that cleanses, tones, treats and moisturises. See the difference a skin-specific, spa-inspired daily regime can make in your skin today and everyday.