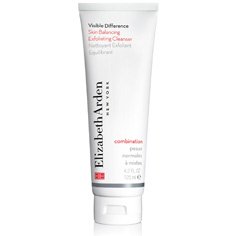 Visible Difference Skin Balancing Exfoliating Cleanser
Cleaning combination skin is a balancing act: oilier areas need to be well-cleansed without depleting vital moisture. Our foam's micro-beads gently cleanse and exfoliate while leaving skin with the perfect balance of hydration. Non-acnegenic.
When your skin is a combination of normal and oily, it's important to use a cleanser that can do the job without overdoing oil control. That's because healthy skin needs vital moisture to look and feel great. We've used 100 years of spa experience to create this multi-tasking foam that uses micro-beads to gently clean and remove dead skin without upsetting the delicate balance your skin requires. Leaves your skin feeling revitalised and looking healthy throughout the day. Be sure to follow with a toner for refined looking pores and a fresh, soft glow.
BEST FOR: COMBINATION SKIN
To use: Massage gently onto wet face. Rinse well with warm water. Follow with Visible Difference Skin Balancing Toner.
As always, you'll get best results if this is part of a consistent, daily Visible Difference essential regime:
1)Cleanse 2)Tone 3)Treat 4)Moisturise
Your daily skincare regime can make a Visible Difference.
Skin types are as individual as personalities and can change with the seasons, diet, and stress. 100 years of Elizabeth Arden spa experience has taught us that nothing is more beautiful than beautiful skin. Whether your skin is dry, oily, or at times both, the new Visible Difference line of skincare essentials gives your skin the hydration it needs to appear healthy and radiant.
Specifically designed and customised for each unique skin type - combination, oily and dry - Visible Difference is a four part daily treatment process that cleanses, tones, treats and moisturises. See the difference a skin-specific, spa-inspired daily regime can make in your skin today and everyday.