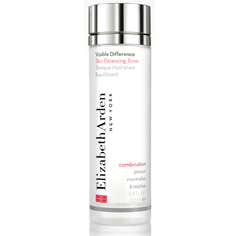 NOT ACTIVE


Visible Difference Skin Balancing Toner

For combination skin, a great, alcohol-free toner should be a key part of your cleansing routine. Why? Because you need to remove excess impurities without drying your skin. Our toner works while delivering the moisture balance skin craves.
If you have combination skin, your first requirement for a toner should be that it's alcohol-free. Alcohol on your skin can leave it dry and will prevent the balancing effect your skin needs. We've formulated our toner to remove any last trace of impurity from skin and pores while leaving your skin with just the right amount of moisture to be its most balanced and healthy. Works over time to intercept oily skin problems for visibly clearer skin. The result is clean skin that feels soft, soothed and refreshed and is ready to enjoy the maximum benefits of your serum and moisturiser.
BEST FOR: COMBINATION SKIN
To use: Sweep over cleansed skin with cotton. Avoid the temptation to rub. Be gentle with your skin.
As always, you'll get best results if this is part of a consistent, daily Visible Difference essential regime:
1)Cleanse 2)Tone 3)Treat 4)Moisturise
Your daily skincare regime can make a Visible Difference.
Skin types are as individual as personalities and can change with the seasons, diet, and stress. 100 years of Elizabeth Arden spa experience has taught us that nothing is more beautiful than beautiful skin. Whether your skin is dry, oily, or at times both, the new Visible Difference line of skincare essentials gives your skin the hydration it needs to appear healthy and radiant.
Specifically designed and customised for each unique skin type - combination, oily and dry - Visible Difference is a four part daily treatment process that cleanses, tones, treats and moisturises. See the difference a skin-specific, spa-inspired daily regime can make in your skin today and everyday.