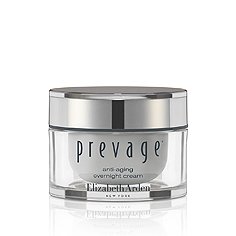 PREVAGE® Anti-aging Overnight Cream
This intensive overnight moisture cream with advanced Idebenone technology was specially formulated to work during the night in synch with skin's sleep cycle, as it's the time your skin is most receptive to treatments. PREVAGE® Anti-aging Overnight Cream helps to fight the visible effects of environmental damage from the day and optimize skin's natural moisture and repair capabilities, working to minimize the appearance of lines, wrinkles, discolorations and the effects of sun damage.
PREVAGE® Anti-aging Overnight Cream is proven to help:
Reverse dryness with intensive moisture
Enhance skin's own natural nighttime repair process
Smooth, soften and retexturize skin's appearance
Restore skin's natural resilience for a firmer look
Fight the visible effects of daytime environmental assaults - lines, wrinkles, discolorations and sun damage
Give skin a rested, restored, more radiant appearance
After 4 Weeks:*
87% Reduces roughness and dryness.
83% Skin feels nourished all night.
80% Enriches skin with deep moisture.
70% Skin looks revitalized.
*US home use consumer test on 101 women ages 30-60 after 4 weeks
Apply each night after PREVAGE® Anti-aging Daily Serum and wake up to skin that looks profoundly moisturized and revitalized, smooth, refreshed and restored.
Test Usage
If you have sensitive skin, eczema or a history of allergies, you may want to consult with your physician before your first use of PREVAGE® products. Before beginning to use PREVAGE® on a regular basis, apply a small amount of product (less than one pump) daily for at least three (3) days to a small area of skin on the forearm near the inner side of the elbow. If any itching, burning, redness, or swelling occurs during this trial period, wash the product off and discontinue use immediately. If no reactions occur, follow the Regular Usage instructions.
PREVAGE® anti-aging treatments.
Proof...not promises.™
From Elizabeth Arden and a leading dermatological research company, PREVAGE® contains Idebenone (hydroxydecy ubiquinone), currently the most powerful antioxidant* for addressing the visible signs of aging including fine lines, wrinkles, roughness and discolouration. PREVAGE® anti-aging treatments promote a smoother, firmer, less lined appearance.
*When compared to alpha lipoic acid, kinetin, vitamin C, vitamin E, and coenzyme Q10.