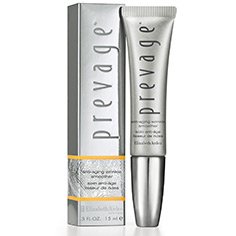 NOT ACTIVE


PREVAGE® Anti-aging Wrinkle Smoother

Give your skin a wrinkle fighting boost. This targeted treatment delivers an intensive dose of Idebenone, hyaluronic acid derivative and potent amino acids. Immediately fills and eases the look of fine lines and wrinkles to give skin a smoother, air-brushed look.
Provides environmental protection and formulated with a Biomimetic Peptide and a Vitamin A derivative its shown to support skin's vital collagen and elastin to fight the appearance of fine lines and crow's feet with continued use.
100% of women noticed an immediate reduction in the appearance of lines and wrinkles, including crow's feet.*
Immediately, LUMIFLECT™ technology with Optical Diffusers and Soft-focus Silicones blur imperfections and illuminate skin with instant radiance.
Over time, a botanical extract, peptide and amino acid complex helps smooth the look of wrinkles as hyaluronic acid derivative helps plump skin to give it an overall more youthful appearance.
CLINICALLY PROVEN RESULTS*:
Forehead Wrinkles
90% of women instantly showed a significant reduction in the size, severity and number of forehead wrinkles.
Deep forehead lines reduced by 56%.
Crow's Feet
100% of women instantly showed a significant reduction in the width, severity and number of crow's feet.
Deep crow's feet lines reduced by 47%.
Nasolabial Folds
90% women instantly showed a significant reduction in the length, width, severity and number of nasolabial lines.
*Based on a US clinical study conducted on 29 women aged 39-57 after a single use.
To use: Gently pull off cap. Squeeze tube to release a pea-size amount of product. Using applicator tip, gently smooth over lines and wrinkles. For optimal results, use after your PREVAGE® skincare regimen and before applying makeup. Suitable for sensitive skin.