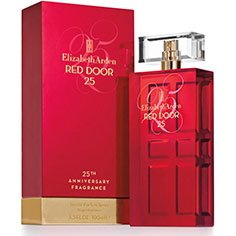 Red Door 25 Eau de Parfum Spray (25th Anniversary Edition)
In celebration of the 25th anniversary of Red Door, Elizabeth Arden's classic fragrance, comes Red Door 25, a bold floral bouquet. Reinterpreted by Master Perfumer Carlos Benaim, one of Red Door's original creators, Red Door 25 is a playful floral seduction of blackcurrant nectar, luxurious rose extracts, sensual musk and warm patchouli. 100 ml.
Olfactive Classification: Bold Floral Bouquet
Top: Blackcurrant Nectar, Violet Leaf Absolute, Natural Rose Water Essential LMR
Mid: Turkish Rose Absolute LMR, Rose Absolute LMR, Indian Jasmine Sambac Absolute LMR
Base: Pathcouli Heart LMR, Honey, Sensual Musk
LMR is International Flavors & Fragrances Inc's in-house 100% pure Naturals facility based in Grasse, France, offering an exclusive collection of the highest quality natural ingredients gathered from all over the world.
"When I created Red Door in 1989, I knew it was a very special moment. Twenty-five years later, I wanted to reinterpret the timeless classic of Red Door with a new story. A story of a woman's natural evolution, acknowledging her core essence while celebrating the parts which are new." Carlos Benaïm, Master Perfumer