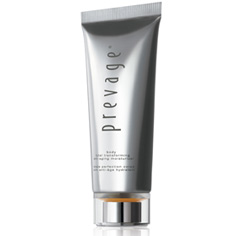 PREVAGE® Body Total Transforming Anti-aging Moisturizer
This high performance moisturizer with clinically proven Idebenone plus Tripeptide Complex zeros in on your body's anti-aging skincare needs to give skin a total tune-up. It's definitely not just another moisturizer - you'll see a difference in just six weeks: Skin looks smoother, firmer, totally transformed.
PREVAGE® Body is proven to improve the look of skin - all over:
Sun damage: Age spots, sun damage and discolorations look minimized.
Dryness: Dry, rough skin on legs, arms and hands feels incredibly softer, smoother and hydrated.
Firmness: Supports skin's natural optimal collagen and elastin levels so skin looks firmer, tightened and toned.
Texture: Goes beyond retexturizing to target minor scars, stretch marks and dimpled skin with intensive moisture.
Radiance: Leaves skin looking younger, brighter, totally transformed.
PREVAGE® Body Consumer Test Results After 6 Weeks*:
92% saw a decrease in the appearance of stretch marks
93% felt it firmed the look of dimpled skin
85% saw a reduction in the appearance of minor scars
67% saw a reduction in the appearance of age spots and colorations
83% felt their skin looked brighter
93% noticed smoother, softer skin
* US home use consumer test conducted on 60 women aged 25-65.
After following the test usage directions, below, massage onto entire body daily, concentrating on target areas.
Test Usage
If you have sensitive skin, eczema or a history of allergies, you may want to consult with your physician before your first use of PREVAGE® products. Before beginning to use PREVAGE® on a regular basis, apply a small amount of product (less than one pump) daily for at least three (3) days to a small area of skin on the forearm near the inner side of the elbow. If any itching, burning, redness, or swelling occurs during this trial period, wash the product off and discontinue use immediately. If no reactions occur, follow the Regular Usage instructions.
PREVAGE® anti-aging treatments.
Proof...not promises.™
From Elizabeth Arden and a leading dermatological research company, PREVAGE® contains Idebenone (hydroxydecy ubiquinone), currently the most powerful antioxidant* for addressing the visible signs of aging including fine lines, wrinkles, roughness and discolouration. PREVAGE® anti-aging treatments promote a smoother, firmer, less lined appearance.
*When compared to alpha lipoic acid, kinetin, vitamin C, vitamin E, and coenzyme Q10.