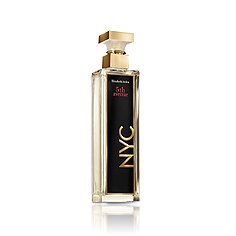 5th avenue NYC Eau de Parfum Spray
Designed to epitomize the effortlessly elegant style of the Manhattan woman, 5th avenue NYC is a fruity floral that speaks to modern day sophistication. Alluring and inviting, the fragrance captures the pulse of New York City with effervescent citrus and sparkling fruits.
Top: Bright top notes of bergamot sparkle like the city lights, accented with succulent peach and New York hometown favourite, Golden Delicious apple.
Middle: The sensual fruit of black currant and lush florals capture the refined style of New York City women.
Drydown: In a city that moves as fast as you want it to, 5th avenue NYC leaves behind a sensual trail of warm woods, golden amber, rich vanilla and tonka bean enveloped in velvet musks.
As the chill of winter gives way to the warmth of spring, get captivated by the vivid floral fantasy of Elizabeth Arden's Spring/Summer 2013 New York in Bloom Limited Edition Color Collection. Inspired by the vibrancy of blossoming flowers in the city, New York in Bloom blends a kaleidoscope of bold, urban colors and soft neutrals. Eyes are lined and brightened with shimmering nude, pink, violet and blue/green shadows. Cheeks are flushed with a golden bronze glow. Nails dazzle with brilliant shades of purple and teal. The limited edition packaging is inspired by fresh cut flowers: a mix of delicate blooms and strong pops of beautiful color
"The entire color collection is very on-trend for spring with impactful shades that provide a natural glow," says Rebecca Restrepo, Global Makeup Artist for Elizabeth Arden. "Each shade is delicate yet impactful to enhance a woman's natural beauty."