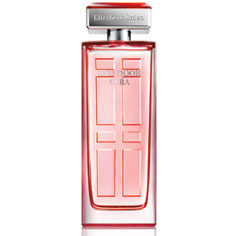 NOT ACTIVE


Red Door Aura Eau de Toilette Spray Naturel

Introducing Red Door Aura, the vibrant new floral fragrance inspired by our luxurious classic Red Door. It takes a master perfumer to create a fragrance this luminous and sparkling while maintaining the elegant sensuality of our famous Red Door scent.

Size: 3.3oz/100ml
Fragrance Mood: Feminine, sparkling, youthful and sophisticated.
Red Door Aura is a dazzling, modern expression of the signature Red Door.
Developed by the same master perfumer who created Red Door, Red Door Aura opens with a sparkling introduction of Luscious Raspberry and Italian Bergamot. A contemporary sensual quality is added with woody notes and addictive creaminess. Sparkling with elegance and a subtle sensuality, Red Door Aura is perfect for days or nights when you want to express your effortless glamour.
Top Notes:
Luscious Raspberry
Juicy and succulent…this delectable, superior bramble berry is found during the summer throughout North America, ranging from the Rockies Mountains to the Northeast. The sweet, dark flavor adds an unexpected dimension to the bright, fresh top notes.
Italian Bergamot
Named after the Italian city of Bergamot where the fruit was first cultivated, Bergamot grows on a small evergreen tree with long, lush opal shaped leaves and small, white flowers. Oil derived from the peel of the bergamot fruit has has long been used in perfumery and has a sweet citrus scent with a soft floral quality.
Freesia
Native to the Cape Province of South Africa, freesia ranges in color from white to yellow, pink, red and blue-mauve. It was christened in the 19th century in homage to a German physician named Freese. Freesia has a bright floral fragrance evoking jasmine or orange blossom, with sweet, almost fruity accents.
Middle Notes:
Orange Flower
During the days of ancient China, women wore orange blossoms in their hair, as they were emblems of purity, chastity and innocence. The custom became so indoctrinated into the culture that in the early 1800's the phrase "to gather orange blossoms" took the meaning " to seek a wife". The orange tree is also symbolic of fruitfulness because it is one of the rare plants that blooms and bears fruit at the same time. The white flower imparts a grapey, citrus-like floralcy, with slight animalic undertones.
Rose
A prominent symbol of spirituality and divine perfection…the rose is an ancient symbol of love and beauty. The Greek poets referred to the rose as "Eternal Love and Magic" and it has been celebrated throughout history in literature, art, and perfumes ever since. It's unmistakable scent is luxurious and full; both spicy and green, the rose brings a velvety richness and volume to the fragrance.
Jasmine Petals
Jasmine is native to Egypt. This delicate flower opens only at night so the flowers are harvested when their scent is at its peak just before dawn. This exotic floral adds a warm, ethereal sensuality.
Base Notes:
Creamy Amber
Warm sensuality lingers on the skin when amber's sophisticated and sultry nature is unveiled. Amber adds a sensual, earthy tonality while making the scent last longer in wear.
Sandalwood
Used to build ancient temples in India, the striking fragrance has lingered for centuries in these magnificent buildings. Rich and sweet with a delicate, woody, floral tone, sandalwood creates an envelope of warmth with its smooth and creamy lasting qualities. A precious native of India, sandalwood has been highly valued throughout the Pacific and Eastern Indian Ocean cultures for at least 2,000 years.
Soft Musk
Smooth and warm, musk was considered one of the most prized luxury items brought by Arabian ships from the East. Originally obtained from the musk gland of the fawn, today, the fragrance industry no longer uses natural musk due to environmental concerns. Musk imparts a sensual, skin-like quality to the base of the fragrance, delivering a luminous trail of lasting warmth and sensuality.
When you apply perfumes apply them to pulse points such as the folds in the crook of your elbow and back of knees, wrist, neck and cleavage. Spraying a little into the air is also good if you walk straight into the perfume. This helps to diffuce it over your body. Do not simply apply to the neck as the scent will rise.
Red Door Aura, a new expression of the classic and timeless Red Door fragrance. This contemporary and youthful fragrance captures the multi-faced flamour, elegance and style of the New York City woman.