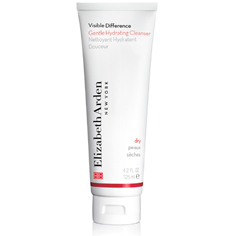 Visible Difference Gentle Hydrating Cleanser
Thorough cleansing is crucial for healthy looking skin, but it must be done gently if your skin tends to be dry. Over 100 years of spa science and experience has created the perfect creamy cleanser for cleaning and exfoliating while maintaining moisture.
If your skin tends towards dryness, you know how hard it can be to cleanse without stripping away moisture. Over 100 years of science and experience has taught us to create the perfect blend of gentle cleansers, exfoliants and humectants for skin like yours. In addition to removing impurities and make-up, this creamy cleanser uses colloidal oatmeal to gently exfoliate while soothing and calming your skin. But the real key for skin like yours, are the humectants that attract and hold moisture to your skin for a soft healthy looking glow. Skin is left smooth and supple. Dermatologist and clinically tested for sensitive skin and allergies.
BEST FOR: DRY SKIN
To use: Massage gently over wet skin using small circular motions. Rinse thoroughly. Follow with Visble Difference Gentle Hydrating Toner.
As always, you'll get best results if this is part of a consistent, daily Visible Difference essential regime:
1)Cleanse 2)Tone 3)Treat 4)Moisturise
Your daily skincare regime can make a Visible Difference.
Skin types are as individual as personalities and can change with the seasons, diet, and stress. 100 years of Elizabeth Arden spa experience has taught us that nothing is more beautiful than beautiful skin. Whether your skin is dry, oily, or at times both, the new Visible Difference line of skincare essentials gives your skin the hydration it needs to appear healthy and radiant.
Specifically designed and customised for each unique skin type - combination, oily and dry - Visible Difference is a four part daily treatment process that cleanses, tones, treats and moisturises. See the difference a skin-specific, spa-inspired daily regime can make in your skin today and everyday.