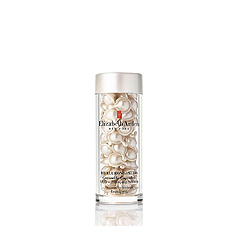 NEW

- Hyaluronic Acid Ceramide Capsules Hydra-Plumping Serum
Powered by Double-Lock Hydration, 98% see visibly plumper skin with a more youthful bounce. Moisture magnet hyaluronic acid and skin-strengthening ceramides work together to visibly plump, firm and hydrate skin.
Skincare with a twist. Formulated for maximum potency and encapsulated for purity, for visibly plumper, firmer and hydrated skin. Powered by moisture sealing Double-Lock Hydration, this silky, lightweight serum combines two essential youth factors in a single-dose capsule. Hyaluronic acid draws in moisture while skin-strengthening ceramides lock it in. See healthy-looking skin with visibly defined facial contours. Instant plumping power in every dose to reclaim skin's youthful bounce. Biodegradable, single-dose capsules. Free from added fragrance.