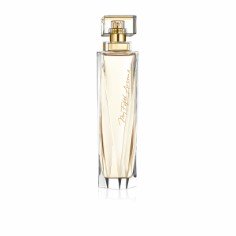 My Fifth Avenue EDP Spray
Elizabeth Arden introduces the NEW My Fifth Avenue, a fragrant celebration of a woman's rightful ambition in the legacy of Ms. Arden. Available in 30ml, 50ml, 100ml, and Body Lotion 150ml. "When I first saw 5th Avenue, I looked up at all of the tall buildings and felt totally overwhelmed and intimidated, like it was someone else's world", said Reese Witherspoon, Elizabeth Arden's brand ambassador. "Then I discovered if you have the right work ethic, ambition and sense of purpose, the world is whatever you make of it."
The sparkling fresh floral scent of My Fifth Avenue evokes the energy of the most famous street in the world, featuring crisp citrus notes for a surprise burst of freshness complemented by an embrace of feminine florals.
The notes evolve into the warmth and emotion of musk and woods, reflecting a woman's strength and resilience, imparting the scent of success.
The Fragrance:
"New York City, specifically 5th Avenue, was the inspiration for the fragrance. We wanted to capture the energy of the city through the eyes of a woman striving to make her mark.
5th Avenue is the heart of NYC, and My Fifth Avenue serves as an ode to the ambition and adventure one can find there.
The goal was to capture all of these elements and translate them into a fragrant reminder of the endless possibilities that lay ahead."
Jennifer Nuttall, Elizabeth Arden Global Director of Fragrances
Top Notes: Lemon, Mandarin, Floral Ozone, Violet Leaves
Middle Notes: Lotus Flower, Blooming Jasmine
Dry Notes: Trio of Musks, Amber Woods, Orris Accord, Cedarwood Oil
Packaging: Inspired by the glamour of the skyscrapers on 5th Avenue, the bottle features sleek, clean lines and sharp angles with reflective gold touches.
When you apply perfumes apply them to pulse points such as the folds in the crook of your elbow and back of knees, wrist, neck and cleavage. Spraying a little into the air is also good if you walk straight into the perfume. This helps to diffuse it over your body. Do not simply apply to the neck as the scent will rise.