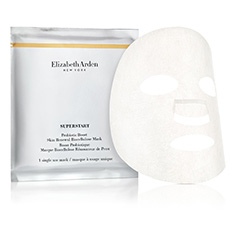 SUPERSTART Probiotic Boost Skin Renewal Biocellulose Mask (4 sheets)
This luxurious, cooling mask has 2X the probiotic blend featured in the Skin Renewal Booster for smoother, more youthful-looking skin.
Its 2X probiotic complex contains double the powerful probiotic blend featured in SUPERSTART Skin Renewal Booster, a complex that provides the skin with complementary probiotic action that not only triggers an improvement in the appearance of the skin with a nourishing and smoothing effect, but also optimizes skin's microflora and its natural defenses.
1 Remove mask from packette and carefully unfold. Delicately remove the cloth backing from one side.
2 Apply the mask onto clean, dry face and adjust onto facial contours keeping the mesh on the outside.
3 Carefully remove the mesh liner using both hands.
4 Smooth the mask to fit the contours of your face. Leave on for 15-20 minutes. Remove and discard mask.
Start Strong - Boost your way to radiant, healthy-looking skin.