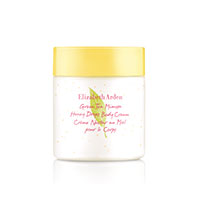 NOT ACTIVE


Green Tea Mimosa Honey Drops Body Cream

Graceful. Animated. Bubbly.

Be dazzled by an introduction of Green Tea Vapors and citruses intermingling with a graceful midnote of Moroccan Mimosa Absolute. In its bubbly finale, a fragrant reverie with a base of Heliotrope and Ambrette Seed prevails.

Sizes: 250ml, 500ml
This citrus sparkling floral fragrance instantly transports you to a garden of surprise and delight where quiet stillness is contrasted by graceful yet animated Mimosa pom poms. Breathe in the top notes of Green Tea Vapors intermingling with citruses and let its bubbly heart of Moroccan Mimosa Absolute wrap you in the days of innocence. Like the sunshine pouring down from the sky, be dazzled by its base -- a soft finale of Heliotrope and Ambrette Seed that promises to send you on a journey of childhood reverie. Green Tea Mimosa. An invitation to watch mimosas dance summer away.
Graceful, animated and bubbly, Green Tea Mimosa adds a dazzling and delightful fragrance to the Green Tea family. In the spirit of Green Tea, it awakens the senses but also takes you on a journey to childhood where secret gardens rule and Mimosa pom poms fall like velvet sunshine from the sky. Its almost whimsical medley of green tea, citruses and budding beauties unleashes a citrus sparkling floral fragrance that breathes new life into an otherwise still and secret garden.
Fragrance Notes:
Top: Green Tea Vapors, Sicilian Lemon Orpur ®, Florida Grapefruit
Middle: Moroccan Mimosa Absolute, White Violet,
Osmanthus Absolute, Mimosa Natsublim® Extract, Acacia Accord
Base: Florentine Orris Absolute, Sylkolide® Musk, Heliotrope, Ambrette Seed