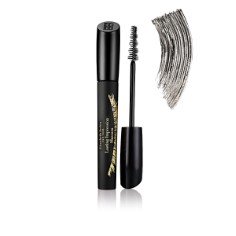 Lasting Impression Mascara
Exceptional length, separation, and definition It only takes a few seconds to make an impression, make yours unforgettable. Lasting Impression Mascara delivers longer-looking lashes. Our unique brush with five iconic spheres grab, coat and extend for remarkably long, fanned out lashes that will get you noticed wherever you go.
Make an impression with this high impact mascara that captures every last lash to separate and define for a never ending lash look. Infused with Ceramides for strong, healthier lashes.
Clump proof. Smudge Proof. Flake Free.
The Formula:
Powered by Ceramides (1,3, and 6) plus vitamin C to help reinforce and restore lashes natural protective barrier. Avocado and olive oils condition lashes and help seal moisture for a defined, silky lash look. The rich and creamy formula glides on and coats lashes for a smooth and even application.
Key Ingredients
- Ceramides: A blend of Ceramides 1, 3 and 6, phytosphingosine and cholesterol helps to reinforce and restore lashes' natural protective barrier.
- Avocado & Olive Oils: Work with Ceramides to protect lashes and keep moisture in, helping to build volume.
- Panthenol: Helps to condition lashes and improve elasticity.
- Equisetum: Rich in mineral silica to help strengthen lashes.
- Ascorbyl Palmitate: A form of Vitamin C to help fight environmental assaults and keep lashes looking healthy.
The Brush:
Capturing every lash with each swipe; the distinctive five-tiered bristles are designed to surround each and every lash for maximum length and color impact. This unique delivery system allows for lashes to take on new heights as the brush and formula work seamlessly together to extend and separate. Eyes are transformed for a more eye-opening, fanned out look that last all day.
3-STEP BRUSH APPLICATION:
1 LENGTHEN, SEPARATE & LIFT
Starting at the base of lashes work towards ends to create a more lengthened and fanned-out lash look
2 REACH EVERY LAST LASH
Use the unique tapered tip to reach tiny inner and outer corner lashes.
3 FLUFF & REPEAT
To create a more dramatic, lengthened look, repeatedly fluff tips of lashes.
Apply additional coats as desired.
Rebecca Recommends: "Use the wand in two ways. First, saturate the base of the lashes, while twirling the wand to grab and coat lashes to create a feathery and lengthening effect. Then, using just the unique tapered tip, flick lashes in upward strokes to build precise lift and separation especially on the outer corners."