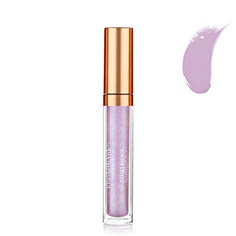 Sunset Bronze Prismatic Lip Gloss
Light reflective, sunset inspired lip gloss. Apply alone or over lipstick for prismatic effect.
Irresistible conditioning lip gloss dazzles with high-shine iridescence and nourishes lips with moisture. Packed with lustrous pigments and multidimensional pearls, each gloss is enriched with ultra-hydrating Aloe Vera and Vitamins A, C, and E to soothe and protect lips.
A new, modern bronze collection inspired by the summer sunset when colours achieve the greatest intensity as the sun reaches the
horizon. The sky is bathed in a remarkable show of honey bronzes, stunning purples, warm pinks and reddish-oranges. Skin has the
perfect bronze after-glow, luminous and radiant, cheeks are highlighted with subtle colour and an iridescent sheen, eyes are seductive with mystical shades of purples and rose-golds. Lips have light-reflective shimmer that create a multidimensional, prismatic effect.
Key Ingredients:
Aloe Vera: This botanical soothes lips while providing comfort and a moisturized feel.
Multidimensional Pearls: The pearls provide a prismatic effect and colour-changing capabilities created by light reflecting on the lips.
Vitamins A, C and E: These environmental protectants help keep lips looking moisturized and healthy.
Apply alone or over lipstick for prismatic effect.
Rebecca Recommends: "These glosses offer subtle sparks of glittery colour. They're amazing on their own, or to add a hint of shine and volume to lips, apply in the center of the mouth on top of Beautiful Colour Moisturizing Lipstick."