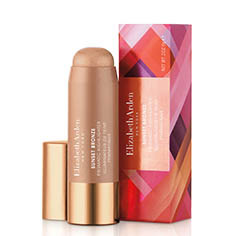 Sunset Bronze Prismatic Highlighter
This creamy, luminous highlighter with ultrafine, light-reflecting pearls glides on to turn up the lights on cheeks, brow bones.
This creamy, luminous stick highlighter glides effortlessly onto the skin to illuminate cheeks and brow bones. When applied, ultrafine light-reflecting pearls create a multidimensional effect. Added skin-hydrating ingredients like Aloe Vera, Zinc PCA and Vitamin E condition the skin, while ultrafine powders and spherical micro powders ensure a smooth, silky product application.
A new, modern bronze collection inspired by the summer sunset when colors achieve the greatest intensity as the sun reaches the
horizon. The sky is bathed in a remarkable show of honey bronzes, stunning purples, warm pinks and reddish-oranges. Skin has the
perfect bronze after-glow, luminous and radiant, cheeks are highlighted with subtle color and an iridescent sheen, eyes are seductive with mystical shades of purples and rose-golds. Lips have light-reflective shimmer that create a multidimensional, prismatic effect.

Key Ingredients:
Aloe Vera, Zinc PCA and Vitamin E: This cocktail of humectants provides soft, moisturized feeling skin.
Mica Based Pearls: Mineral pearls of mica and titanium dioxide reflect light and impart sparkle to create a multidimensional effect on eyes for lively and intense color.
Ultrafine Powders and Spherical Micro Powders: Silica and mica minerals provide a smooth, silky application to help soften skin's texture, creating a natural bronzed look.
Rebecca Recommends: "I love to use this highlighter to create a radiant, modern and sexy face. Apply the highlighter, before blush and bronzer, along the outer edge of the brow moving in a 'C' formation along the cheekbones, fading to the center of the face. Also apply to the center of the nose starting at eye level, moving down the bridge to right above the tip of the nose."