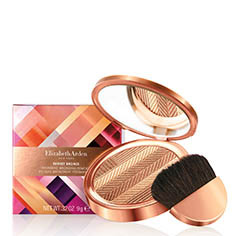 Sunset Bronze Prismatic Bronzing Powder
This silky bronzing powder diffused with golden shimmer gives skin the perfect sunkissed glow for a healthy, radiant sun tanned look. Includes a natural hair brush.
This silky bronzing powder, diffused with golden shimmer, imparts skin with a reflective, sun-kissed glow. The compact houses a prismatic combination of bronzing and highlighting shades formulated with skin-perfecting ingredients to help minimize the look of fine lines and wrinkles. It comes complete with a half-moon brush for easy on-the-go application.
A new, modern bronze collection inspired by the summer sunset when colors achieve the greatest intensity as the sun reaches the
horizon. The sky is bathed in a remarkable show of honey bronzes, stunning purples, warm pinks and reddish-oranges. Skin has the
perfect bronze after-glow, luminous and radiant, cheeks are highlighted with subtle color and an iridescent sheen, eyes are seductive
with mystical shades of purples and rose-golds. Lips have light-reflective shimmer that create a multidimensional, prismatic effect
Key Ingredients:
Ultrafine Powders: Silica and mica minerals provide a smooth, silky application to help soften skin's texture, creating a natural bronzed look.
Illuminating, Microlight Minerals: This blend of spherical silica and nylon acts as an optical diffuser to help blur imperfections, scatter light and soften the look of fine lines and wrinkles.
Vitamin E: Works to keeps skin looking moisturized.
Argan Oil: Rich in beneficial nutrients including fatty acids and Vitamin E, it helps keep skin feeling soft and moisturized.
Brush along cheek bones, forehead and bridge of nose.
Rebecca Recommends: "This bronzer adds warmth while also contouring the shape of the face. To apply, start at the edge of the cheekbone, in line with the bottom of the ear, making short upward strokes, fading to the center of the face. Then stroke the brush along the hairline to create a contoured halo effect. Finish by applying a subtle veil of shimmer all over the face, ears and neck down to the décolleté."