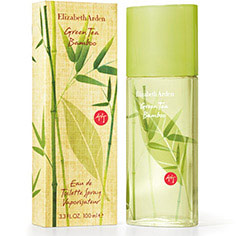 Green Tea Bamboo Eau de Toilette Spray
Fresh. Inviting. Serene.
Green Tea Bamboo is an uplifting fragrance that is as fresh as it is serene. Transporting you to an invitingly lush bamboo grove, this new fragrance renews your senses. Bamboo and sparkling citrus nuances blend with soothing cucumber, violet leaves and syringa to uplift your spirit, as musks, soft woods and rich resins brings a sense of peaceful tranquility.
Olfactive Classification: Citrus Green
Available in 50ml and 100ml.
Present in many parts of the world, Bamboo is widely recognized as a symbol of longevity and healing. Its vibrant green shoots grow in tandem with each other, younger plants growing around older plants being careful not to block their sunlight. Tall, still and abundant, these gardens emanate peace, and well being.
TOP NOTES: Sicilian Lemon, Calabrese Bergamot, Golden Grapefruit, Bamboo Scent Trek™, Tamarind Tree Leaves, Persian Galbanum
MID NOTES: Green Tea Accord , Violet Leaves, Cucumber, Syringa Scent Trek™
BASE NOTES: Musk, White Birch, Lentisque Resin, Moss, Italian Orris, Mate
Perfumer's Inspiration:
"While creating this fragrance, I envisioned a spa in southern Thailand, surrounded by bamboo groves and lush green foliage. The sound of a waterfall trickling in the background calmed my mind as I sipped on my soothing green tea. I drifted into a place of pure relaxation, tranquility and peace." Rodrigo Flores-Roux, Senior Perfumer, Givaudan