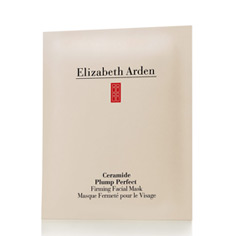 Ceramide Plump Perfect Firming Facial Mask, 4 packettes
Plump up skin in just 10 minutes. This innovative cloth mask saturates skin with concentrated Argireline and Ceramides for results that are immediate and visible. Lines and wrinkles appear softened and plumped.
Delivers a highly concentrated level of Argireline, a potent hexapeptide, proven to measurably plump surface lines to help smooth away visible signs of aging, stress and tension.
Fortified with Ceramide Triple Complex (Ceramides 1,3 and 6).
Skin looks firmer, retexturized and renewed.
With continued use, skin will appear brighter and more even toned.
1. Cleanse and tone your face. Open the top of the foil packette (see opening notches) and carefully remove the mask. Please note: Some drops of serum may drip from the mask.
2. Unfold and apply mask, adjusting so that eyes, nose and mouth openings are aligned.
3. Gently press the mask onto skin.
4. Remove the mask after 10 minutes and discard. Massage serum residue into skin until absorbed. It is not necessary to apply additional treatment/moisturizer.
Ultra luxurious formulas. Advanced anti-aging technology. Breakthrough results.
From the encapsulated purity of Ceramide Gold Capsules to the skin-plumping, moisture-boosting benefits of our Plump Perfect formulas, Ceramide Skincare brings your skin the future of anti-aging technology. It's a golden opportunity for your skin.
CERN40004