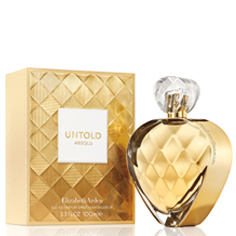 UNTOLD Absolu Eau de Parfum Spray
UNTOLD ABSOLU is a deeper, more sensual interpretation of UNTOLD. Luxurious floral absolutes, red plum and black raspberry accents work in perfect harmony with its magnetic amber base, speaking to the more glamorous and captivating side of today's modern woman.
Olfactive Classification: Glamorous Oriental
UNTOLD was inspired by the multi-faceted woman as she thrives through her life's journey—as her story evolves, so must the fragrance. A deeper, more sensual version of UNTOLD, UNTOLD ABSOLU was designed to convey the captivating and glamorous side of a woman. A fragrance that is as feminine as it is sensual, this new interpretation features intoxicating fruity accents that work in tandem with a sensual golden amber base. Touches of Black Raspberry and Italian Bergamot capture her elegant presence, while Red Plum and bright Ginger LMR convey her captivating allure.
Fragrance Notes:
TOP: Red Plum, Ginger Extract LMR, Black Raspberry, Italian Bergamot
MID: Egyptian Jasmine Absolute LMR, Rose Water Essential LMR, French Narcissus Absolute LMR
BASE: Brazilian Tonka Absolute, Cashmere Woods, Tahitian Vanilla Bourbon Absolute, Benzoin Resinoid
Fragrance Facets: Like UNTOLD, each note of this fragrance captures a dimension of the UNTOLD woman. Two new facets, Glamorous and Captivating, were introduced to UNTOLD ABSOLU.
Glamorous: Bursts of Black Raspberry and Italian Bergamot capture her elegant presence.
Captivating: Intoxicating fruity accents of Red Plum and bright Ginger LMR* convey her magnetic allure.
Refined: Luxurious floral brushstrokes of Jasmine Egypt Absolute LMR* and French Narcissus Absolute LMR* mirror her natural sophistication.
Mysterious: Sultry textures of Tahitian Vanilla Bourbon Absolute and deep Benzoin linger on the skin like her warm aura.
Sensual: Enveloping Cashmere Woods and rich, Brazilian Tonka Absolute echo her irresistible personality.
*LMR is International Flavors & Fragrances Inc's in-house 100% pure Naturals facility based in Grasse, France, offering an exclusive collection of the highest quality natural ingredients gathered from all over the world.
Brand Concept
Whether it's dreams she has yet to share, secrets she has yet to reveal, or ambitions she has yet to declare, UNTOLD was designed to embody the many different facets of the modern woman. While some of these facets are apparent on the surface, others remain hidden, only to be revealed or discovered over time.
Perfumer's Inspiration
"I wanted UNTOLD to be a harmonious balance of the many facets of a woman, which, for me, is the source of genuine beauty. I imagined her sometimes adventurous, sometimes romantic, yet always equally confident. In creating UNTOLD ABSOLU, I knew I wanted to incorporate a more fruity essence, so it was important that I selected ingredients that represented the different and enchanting qualities of the UNTOLD woman that were not previously evoked. Like an accord, this fragrance family is also developing with its wearer." - Clement Gavarry, Perfumer