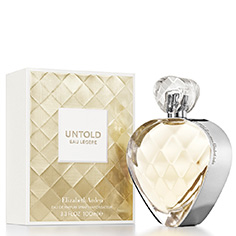 UNTOLD Eau Légère Eau de Parfum Spray
Experience a new dimension of UNTOLD.
With the introduction of dazzling green apple, grapefruit and purple freesia, UNTOLD EAU LÉGÈRE is a sparkling and airy interpretation of the original UNTOLD, reflecting the more light-hearted side of today's modern woman.
Olfactive Classification: Fruity Floral
Similar to UNTOLD, UNTOLD EAU LÉGÈRE was designed to reflect the many dimensions of a woman, highlighting those special moments when she is truly at ease, revealing her genuine smile and effortless grace. A more citrus, airy floral essence, UNTOLD EAU LÉGÈRE accentuates her brilliant vibrancy, spontaneity and natural femininity.
TOP: Sparkling Green Apple, Grapefruit, Blackcurrant LMR, Pink Pepper
MID: Purple Freesia, Gardenia, Jasmine, Pink Peony
BASE: Sandalwood, Amber, Patchouli Heart LMR*, Musk
Fragrance Notes by Facets:
Each note in this fragrance was selected to evoke a certain characteristic of the UNTOLD woman.
Vibrant: Sparkling Green Apple fused with playful Pink Pepper exposes her vibrant optimism and joyful spirit.
Spontaneous: Playful, fruity accents of Grapefruit and Blackcurrant Bud LMR* evoke her light-hearted ways.
Feminine: Delicate Purple Freesia and Pink Peony reveal her romantic and youthful femininity.
Mysterious: Nuances of Patchouli Heart LMR* and Sandalwood hint at her mysterious aura.
Sensual: Heated Ambers cascade over the caress of hypnotic Musk unveiling her magnetic sensuality. Lingering in the air is the unforgettable essence of her presence.
* LMR is International Flavors & Fragrances Inc.'s in-house 100% pure Naturals facility based in Grasse, France, offering an exclusive collection of the highest quality natural ingredients gathered from all over the world.
"I wanted UNTOLD to be a harmonious balance of the many facets of a woman, which, for me, is the source of genuine beauty. I imagined her sometimes adventurous, sometimes romantic, yet always equally confident. In creating UNTOLD EAU LÉGÈRE, I knew I wanted a more citrus, airy, floral essence so it was important that I selected ingredients that I felt represented new and beautiful qualities of the UNTOLD woman that were not previously evoked—spontaneity, and natural femininity. Like an accord, this fragrance family is also developing with its wearer." -Clement Gavarry, Perfumer