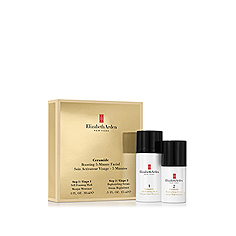 Ceramide Boosting 5-Minute Facial
Achieve a spa-facial glow at home with Ceramide Boosting 5-Minute Facial. Skin looks instantly refreshed and feels smoother and firmer. When used weekly, it helps support skin's elasticity and minimize the appearance of wrinkles. Best when used 1-2 times per week to boost the effects of your Ceramide Capsules Daily Youth Restoring Serum. Dermatologist and clinically tested.
Achieve a spa-facial glow at home in two simple steps.
Step 1: Self-Foaming Mask: This lightweight mask glides easily onto the skin's surface. After just seconds, the unique formula works itself into a light foam, activating chemical and enzymatic exfoliators to gently cleanse as well as a purifying system to help detoxify surface impurities and promote skin cell turnover. Skin is left cleansed and primed for the treatment benefits of the Replenishing Serum.
Step 2: Replenishing Serum: The serum's silky formula delivers Elizabeth Arden's Ceramide Triple Complex (a combination of Ceramides 1, 3 and 6) deep into skin's surface. A skin-identical, replenishing lipid complex, it helps reinforce skin's protective barrier providing enhanced moisturization and a smoother texture as it soothes sensitive skin. The serum is further enriched with Retinyl Linoleate and Tropical Fruit Extracts to help firm, strengthen and retexturize skin's appearance. Soothing ingredients like Aloe Vera and Rice Kefiran leave skin calmed and soothed.
Ceramide Boosting 5-Minute Facial is proven to improve skin's appearance.
• 98% of women who used the treatment felt that their skin immediately looked and felt refreshed.
• 96% of women said that their skin felt immediately softer.
• 94% of women felt Ceramide Boosting 5-Minute Facial immediately left skin with a healthy glow.
• 87% even said it was the perfect prep for a special occasion.*
*Based on an immediate consumer test of 110 women ages 25-65.
Step 1: Dispense a cotton ball-sized amount of Self-Foaming Mask into hands. Apply a thin, even layer to dry or damp, uncleaned face and neck. Allow product to gradually foam into a luxurious mask as it draws out surface impurities. After the mask is fully activated (approximately two minutes), rinse well with luke-warm water. Pat dry.
Step 2: Immediately following Step 1, apply Replenishing Serum to dry face and neck with fingertips and massage evenly into skin in a circular motion. Let the product absorb to replenish and deeply hydrate the skin. Follow with preferred moisturizer.