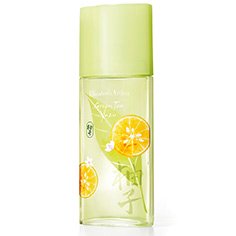 Green Tea Yuzu Eau de Toilette Spray
Green Tea Yuzu is a fragrance of uplifting beauty. This ancient Asian citrus adds a refreshingly pure energy to the Green Tea fragrance.
Fragrance Category: Citrus
Perfumer's Inspiration: "There's an uplifting, refreshing beauty and elemental purity that the Yuzu fruit can bring to the senses, whether you experience it in tea, cuisine or even for therapeutic purposes. I was inspired by these unique properties, and wanted to pair them with notes that I felt reflected the lively and lighthearted personality of the fragrance wearer." Rodrigo Flores-Roux, Perfumer
Top Notes: Yuzu Zest, Sheer Bergamot, Sparkling Lemon, Green Tea Vapors, Lemon Tree Petitgrain
Middle Notes: Yuzu Pulp Accord, Wild Thyme, Spearmint, Black Currant Buds, Green Tea Leaves, Tunisian Neroli
Base Notes: Musk, White Birch, Ambrette Seed
Sparkling. Uplifting. Feminine.
Green Tea Yuzu, captivates its wearer through bright notes of Yuzu zest, sheer bergamot, and sparkling lemon which meet an ethereal wave of green tea vapors and lemon tree petitgrain. Floating into the heart of the fragrance is a spirited freshness of Yuzu pulp accord that harmonizes with wild thyme, spearmint, black currant buds, green tea leaves and Tunisian neroli. The fragrance finishes with sensual notes of soft musk that blend together with ambrette seed and white birch.