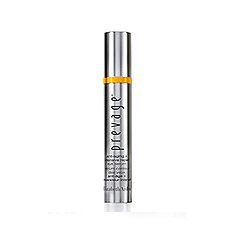 PREVAGE® Anti-aging + Intensive Repair Eye Serum
This luxurious, corrective eye serum with a powerful combination of Idebenone, a highly effective environmental protectant, and targeted eyecare technology helps counteract the appearance of visible aging signs all around the eye area. Quickly see an impact with smoother looking lids, fewer visible deep lines and a brighter look. With continued use, it helps support skin's natural collagen matrix for a firmer look as it significantly reduces the appearance of crepy lids, crow's feet and dark circles. Eyes look more lifted, radiant and younger than ever.
A feather light, silky formula, PREVAGE® Anti-aging + Intensive Repair Eye Serum is rich with ingredients that target the upper and lower eye area to provide dramatic results immediately and with continued use. With the addition of new Anti-aging + Intensive Repair Eye Serum to the PREVAGE® product range, Elizabeth Arden now offers an effective regimen to help protect skin from environmental assaults and support its natural repair process.
Immediate Benefits:
• Idebenone, Arazine™ and Thiotaine are a blend that neutralize and protect against environmental assaults.
• Moisture Trap Technology is a complex of hyaluronic acid, barley and sea plant extracts that works to help lock in moisture, plumping and smoothing skin's texture upon application.
• Optical Diffusers and Soft Focus Silicones deliver a soft focus effect to scatter light and diminish the appearance of fine lines and wrinkles for immediate bright and luminous skin.
With Continued Use:
• Idebenone, Arazine™ and Thiotaine are a blend that continue to help improve the visible signs of aging caused by environmental assaults and cellular inflammation over time.
• Biomimetic Peptide Blend and Retinyl Linoleate even skin tone and support skin's own natural collagen to reduce the look of fine lines and wrinkles and firm the look of skin
• Vitamin B3, Masterwort and Ash Tree Bark Extracts reduce the look of puffiness and dark circles, and increase skin radiance.
Results: PREVAGE® Anti-aging + Intensive Repair Eye Serum is clinically proven to immediately reveal younger looking skin after just one use.* Results increased significantly through continued use of the serum as well as when it was coupled with PREVAGE®Anti-aging + Intensive Repair Daily Serum.
• 75% of women noted a clinical improvement in deep and fine lines in just 15 minutes after use. *
* Based on a US clinical test on 16 women after 15 minutes.
Push the pump down once to dispense a small amount of product onto your fingertips. The dispensed amount will be enough to use around both eyes. Using ring finger, gently smooth on brow bone, upper eyelid and around eye area, concentrating on crow's feet, 2 times daily after PREVAGE® Daily Serums. For enhanced benefits, apply PREVAGE® Anti-aging Eye Cream SPF 15 PA++ on top of the serum for added protection when used in the morning. When used in the evening, the serum can be used alone.