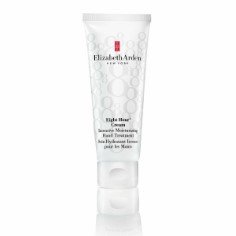 Eight Hour® Cream Intensive Moisturizing Hand Treatment
The perfect companion to our original classic. This fast-absorbing gel cream for the hands moisturizes for up to eight hours. Soothing emollients smooth and soften rough, weather-exposed skin. Signs of dryness and cracking are reversed so hands look and feel soft and touchable.
The Legend
Created in 1930 by Elizabeth Arden to soothe skin, Eight Hour® Cream Skin Protectant became an instant and overwhelming success. What made it so effective is a combination of petrolatum, a skin-soothing beta-hydroxy in one of its first cosmetic uses, and vitamin E. The apricot colored balm was so beneficial to her clients, Miss Arden used it to soothe her famous thoroughbred horses' legs. Even its name came about thanks to a remarkable performance - a loyal client used it to treat her child's skinned knee and eight hours later the skin was all better.
Apply liberally as often as necessary.
Make 8 your skin's lucky number.
To help protect skin from the elements. Refresh it from jet lag. Shape brows. Revitalize shine. Soothe hands. Nails. Knees. Ankles. Toes. And back again. Discover Eight Hour® Cream Skin Protectant. This remarkable cream promotes healthy skin and seals in moisture.