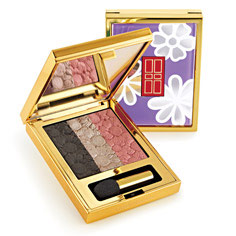 Limited Edition Eye Shadow Trio: Violet Bloom
Three times the possibilities with a trio of eye shadows in matte, metallic and shimmer finishes. Highlight, contour and accentuate eyes with these multi-pigment shadows.
A palette of three eye shadows, in matte, metallic and shimmer finishes, offers a range of looks in the season's hottest shades. Highlight, contour and accentuate eyes with multi-pigment powder shadows. Each pigment is coated with emollients and long wearing ingredients. Hues can be applied dry or wet, and are embossed with an intricate floral texture.
Key Ingredients: Mineral Mica and Nylon act as optical diffusers, softening the look of fine lines and wrinkles.
Rebecca's Tip: The colors can be used individually or together in any combination. For a soft look, swipe the color onto the center of the lid and move outward. I also love to use these shadows as wet eyeliners.
As the chill of winter gives way to the warmth of spring, get captivated by the vivid floral fantasy of Elizabeth Arden's Spring/Summer 2013 New York in Bloom Limited Edition Color Collection. Inspired by the vibrancy of blossoming flowers in the city, New York in Bloom blends a kaleidoscope of bold, urban colors and soft neutrals. Eyes are lined and brightened with shimmering nude, pink, violet and blue/green shadows. Cheeks are flushed with a golden bronze glow. Nails dazzle with brilliant shades of purple and teal. The limited edition packaging is inspired by fresh cut flowers: a mix of delicate blooms and strong pops of beautiful color.
"The entire color collection is very on-trend for spring with impactful shades that provide a natural glow," says Rebecca Restrepo, Global Makeup Artist for Elizabeth Arden. "Each shade is delicate yet impactful to enhance a woman's natural beauty."