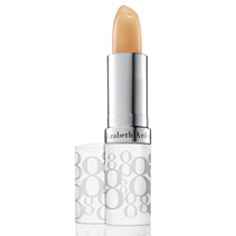 Eight Hour® Cream Lip Protectant Stick SPF 15
Elizabeth Arden's renowned Eight Hour® Cream in a super-protective, portable stick for lips. Enriched with emollients, protective sunscreen and vitamin E.
Treat your lips to Eight Hour Care.
Moisturizes, softens and smooths lips.
Provides antioxidant protection with vitamin E.
SPF 15 shields against UV exposure.
The Legend
Created in 1930 by Elizabeth Arden to soothe skin, Eight Hour® Cream Skin Protectant became an instant and overwhelming success. What made it so effective is a combination of petrolatum, a skin-soothing beta-hydroxy in one of its first cosmetic uses, and vitamin E. The apricot colored balm was so beneficial to her clients, Miss Arden used it to soothe her famous thoroughbred horses' legs. Even its name came about thanks to a remarkable performance - a loyal client used it to treat her child's skinned knee and eight hours later the skin was all better.
Smooth stick over lips whenever needed. Wear alone or under lipstick. Avoid contact with eyes.
Make 8 your skin's lucky number.
To help protect skin from the elements. Refresh it from jet lag. Shape brows. Revitalize shine. Soothe hands. Nails. Knees. Ankles. Toes. And back again. Discover Eight Hour® Cream Skin Protectant. This remarkable cream promotes healthy skin and seals in moisture.