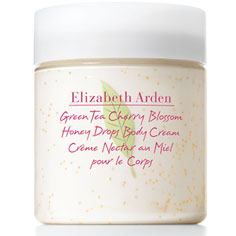 Green Tea Cherry Blossom Honey Drops Cream
Lavish this super-moisturizing cream, infused with the perfect blend of calming green tea, the ethereal scent of cherry blossoms and real drops of honey, all over body to help soften, condition and pamper dry, winter skin.
For a few weeks each spring, all of Japan falls under the spell of cherry blossoms, celebrating these ethereal flowers for centuries in a festival called Hanami or "flower viewing party". An enduring metaphor for the ephemeral nature of life and female beauty, the cherry blossom brings its ethereal scent and delicate femininity to the crisp freshness of the original Green tea fragrance.
Available in 250ml.
Apply a layer of body cream followed by a spritz of perfume to keep fragrance from simply wafting away.
From a lush green world of freshness comes Elizabeth Arden Green Tea, the uplifting fragrance that energizes the body, excites the senses and revives the spirit.