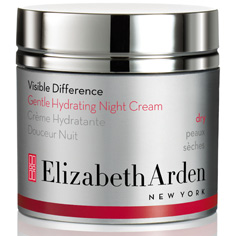 Visible Difference Gentle Hydrating Night Cream
Dry skin loves a great nighttime moisturiser. This one works with your skin's natural cycle of nighttime repair to help your skin recover from daytime damage and look and feel smoother and firmer.
If you have dry skin you may have already discovered what scientists have long known: nighttime is your skin's natural time for repair. It's also a wonderful time for hydration. This light yet intensely moisturising cream helps skin visibly repair itself, to look and feel firmer and more resilient. It also releases soothing scents of lavender and honeysuckle as a blend of essential botanicals and proven moisture boosters help replenish your skin's moisture reserves overnight.
BEST FOR: DRY SKIN
To use: Cleanse and tone first, then smooth cream onto face and throat at night.
As always, you'll get best results if this is part of a consistent, daily Visible Difference essential regime: 1)Cleanse 2)Tone 3)Treat 4)Moisturise
Your daily skincare regime can make a Visible Difference.
Skin types are as individual as personalities and can change with the seasons, diet, and stress. 100 years of Elizabeth Arden spa experience has taught us that nothing is more beautiful than beautiful skin. Whether your skin is dry, oily, or at times both, the new Visible Difference line of skincare essentials gives your skin the hydration it needs to appear healthy and radiant.
Specifically designed and customised for each unique skin type - combination, oily and dry - Visible Difference is a four part daily treatment process that cleanses, tones, treats and moisturises. See the difference a skin-specific, spa-inspired daily regime can make in your skin today and everyday.