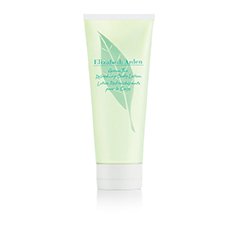 Green Tea Refreshing Body Lotion
This silky lotion is packed with phytolipids and humectants for hydrating and restoring moisture. Available in 200ml and 500ml (mega size).
Top Notes: Caraway, Fruity Rhubarb, Lemon, Orange Zest and Bergamot
Middle Notes: Cool Minty Peppermint, Green Tea, Sweet Jasmine, Spicy Carnation, Fresh Fennel and Crisp Celery Spice
Base Notes: Oakmoss, Musk and Amber
Apply a layer of body lotion followed by a spritz of perfume to keep fragrance from simply wafting away.
From a lush green world of freshness comes Elizabeth Arden Green Tea, the uplifting fragrance that energizes the body, excites the senses and revives the spirit.